Step 1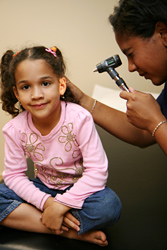 All J-1 visa waiver applicants must commence the process by filing an application (Form DS-3035) with the Department of State (DOS), which will immediately register the application in its system and issue the applicant a barcode. Two self-addressed stamped envelopes and a cashier's check or money order with payment to the U.S. Department of State must be submitted. If the proper form is not submitted to the DOS, the agency has indicated that the waiver application will be rejected. Without regard to whether the application is approved, the processing fee is non refundable.
Step 2
Gather and submit all supporting documents to the Waiver Review Division. All documents required of third parties on behalf of the applicant must also be sent directly to the Waiver Review Division by the third parties. These documents include Conrad request letters, Interested Federal Government agency requests, exceptional hardship determinations by the U.S. Citizenship and Immigration Services (USCIS).
Please visit the following J-1 Visa Waiver pages to learn more about the specific processes for the third party government agencies:
Conrad 30 Waiver
Interested Government Agency Waiver
Exceptional Hardship Waiver
Persecution Waiver
Step 3
When the Waiver Review Division has made a decision regarding the J-1 waiver, it will forward the recommendation to the USCIS. A copy of the determination will also be sent to the address listed on the Form DS-3035.
Step 4
The USCIS makes a final determination on the waiver request. The USCIS will notify the applicant in writing of its decision.
---
Contact us Now for a Consultation